Today there are two excellent releases of violinists Hilary Hahn and also of Janine Jansen. If you're near Seattle you can meet and greet Hilary at her cd release party (see her website
Hilary Hahn dot com
.)
[See my previous post about Hilary's charming new Mozart Sonatas disc - and be sure to catch her live in concert!]
Also Decca releases the Four Seasons with
Janine Jansen
. Janine will be making her US debut later this season, and is one to watch, listen and adore. She brings real fire to these pieces...I've spent some time listening to them repeatedly as well as comparing them to my other favorites (Anne-Sophie Mutter's second recording with the Trondheim Soloists and Monica Hugget's original instruments recording, and even a few others - Fabio Biondi, Kennedy, Simon Standage and Joe Silverstein.) Janine's release is excellent.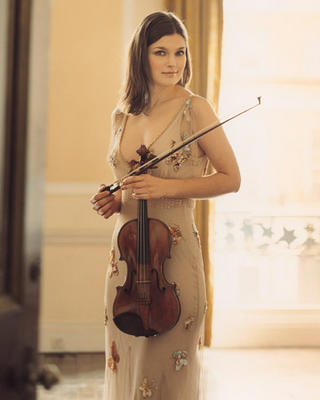 PHOTO FROM
JANINE JANSEN DOT COM
Small aside, growing up I listened to Lorin Maazel's 4 Seasons recording every morning in Junior High School. Really. It was a ritual, putting on the LP and getting ready for school. Every day. I loved it, and practically wore out the LP. Needless to say I am not only a geek, but know these well. So, while there is ONLY the Four Seasons on this disc, it is well worth it.
Janine
is another violinist you should see as she is in the US (or wherever you are) - I'm gonna go to Cleveland in January to catch her.