After I had heard about this year's awards, I started looking more into Deems Taylor. I also contacted lots of friends and teachers about receiving the award. One of my mentors (from NPR), Andy Trudeau mentioned the recent Taylor biography when he responded to my email- in fact he had recently been traveling near Edna St Vincent Millay's home in New York - and said how much he had enjoyed the bio - that I should look it up. As much as I respect Andy for his radio work and writing, I put it on my short list (I had already started a book, so I ordered it). Andy taught me lots about writing! (not usually shown very well here in the blog - my apologies!)
Besides buying
Deems Taylor - a Biography
by James Pegolotti, I also grabbed copies of Taylor's own
Of Music and Men
and
Music to My Ears
. (I'll report on those after getting through them!)
Starting off, I sorta approached reading about Taylor as an assignment - find out more about this gentleman - and it turned out I was very moved reading about him...and I could relate in many ways...my curiosity turned to passion. (Obsession?!) I couldn't put the book down.
"Smeed" would have been very proud to have read James Pegolotti's biography. In reading it, one does not only wish to have hung out with Taylor, but to hear his music as well. Just since reading this biography, I've come out of it feeling (and my imagination does run wild sometimes!) that I did know Deems (despite being born four years after his death!)
Indeed, Taylor was a huge figure of the 20th Century and this book really does him justice. I hope that it will help others (like myself) to elevate him in his place in history...and even more importantly, hopefully conductors and musicians will perform and record more of his music. I can definitely recommend the Seattle Symphony's recording of Through the Looking Glass suite.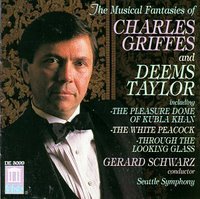 And also the Fanfare for Russia that Taylor wrote in World War Two (part of the same commission that brought about Copland's Fanfare for the Common Man!)
Since 2006 will be the 40th Anniversary of Taylor's death, maybe some opera companies can revive his operas, or orchestras program his music - since we're a society that has to link programming to dates...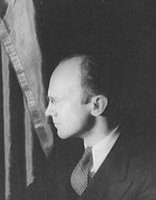 The bottom line here is, take a listen(!) and do check out writings by, and about Deems Taylor.