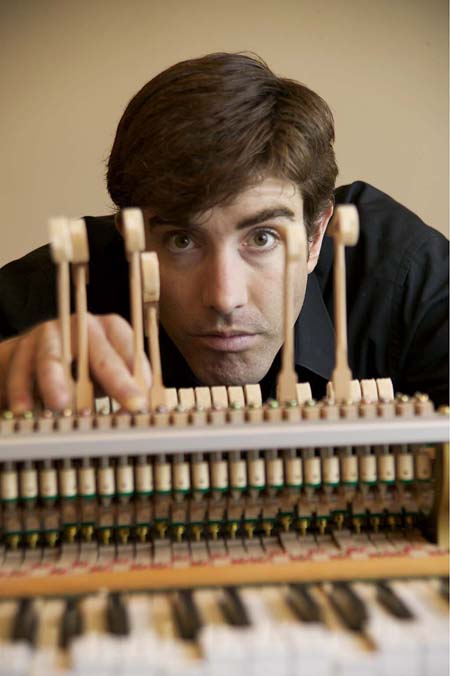 I caught a recital at the
Italian Academy
at Columbia University
(officially the
Italian Academy for Advanced Studies in America
) last night in NYC. The program was part of the
"Music for a New Century"
-
Works composed since 2000
, with pianist
Blair McMillen
.
1. I thought I might see one or two of the composers at the concert - after all, Blair is the pianist for the
DaCapo Players
, so I wondered. As I was out front enjoying a cigarillo, Joan Tower showed up with friends, and we chatted. Later, inside, Derek Bermel sat behind me and we chatted - he pointed out Anthony Tommasini and Fred Hersh to me.
2. The program showed no intermission, and really didn't need one - the five pieces were diverse but not terribly long. Blair took some time in between, which was just right. The order was delightful too: Steven Stucky, Barbara White, The new Goldberg variations (including the original aria and 4 new variations by Stanley Walden, Fred Hersh, Mischa Zupko, and Derek Bermel), Marco Stroppa and Joan Tower.
3. Listening to piano works by composers you know is certainly interesting, especially when it is their chamber music or orchestral scores you are familiar. I have new respect for many of them now - hmmm, maybe new insight is a better word, I still respect them.
4. This program is one of the finest treats I've had, and it was free. While the 50 or 60 people in the audience were appreciative and didn't make it less appealing, I'm a little suprised that it wasn't better attended. Why is that?
5. Blair included two encores, "In the rain" by Barbara White, again from her "Reliquary" and "Sexy" from Kyle Gann's "Private Dances" - both short and sweet. It was a fitting end to a rockin' recital.
The next concert is May 2nd, 2007 with Kathleen Supove and Jennifer Choi.
Email
Rick Whitaker or call him at 212 854 1623 for free tickets (and tell him John Clare sent you!)